Armond Wickham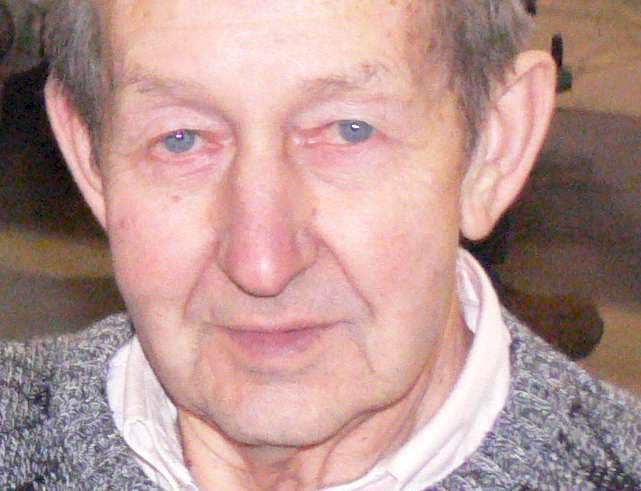 | | |
| --- | --- |
| Corky said it best with the card on the flowers he sent... | |
Armond's Story __________________________________________
I guess its time to tell the story of Armond.
His mother Iola, came from a 'well off' family in Syracuse. She went to Syracuse University between 1910 and 1920 and got a degree in music. She played organ in our church every Sunday for over 50 years. When she married his father, Frank, her father was not pleased... and they were on their own.
Frank was very enterprising and was involved in all kinds of things during his life, usually three or four things at a time. He operated a farm, made and sold maple syrup and had a milk route where he pasteurized and sold the milk from his own cows, worked on the state barge canal locally, was a justice of the peace, was on the town board and the local bank board, bought and sold realestate, and developed some of his farm land into a small housing development.
He bought a hardware store in Brewerton in 1915 and lived upstairs where Armond was born in 1923 as the youngest of three boys. Not far from the downtown store was the one room school house where Armond went to school and then on to North Syracuse High School after that. He was the shortest kid in his class.
He worked in the family store as a kid and after High School worked at Acme Screw Machine Company in East Syracuse where he operated and setup the lathes and screw machines that made bolts and fasteners. When World War II was raging in Europe, he followed his two older brothers into the military. He tried out for flight school but because of his color blindness was not pilot material. However, his mechanical aptitude lead him to flight engineering school where he learned the workings of the planes and engines used by the Army.
He spent his time in the military in the southern US, stationed at Biloxi, MS servicing and flying on the Army's PBY planes. He was flight engineer for the PBY which was a large twin engine flying boat or sea plane that the Army used for air-sea rescue. His station focused on situations in the Gulf of Mexico.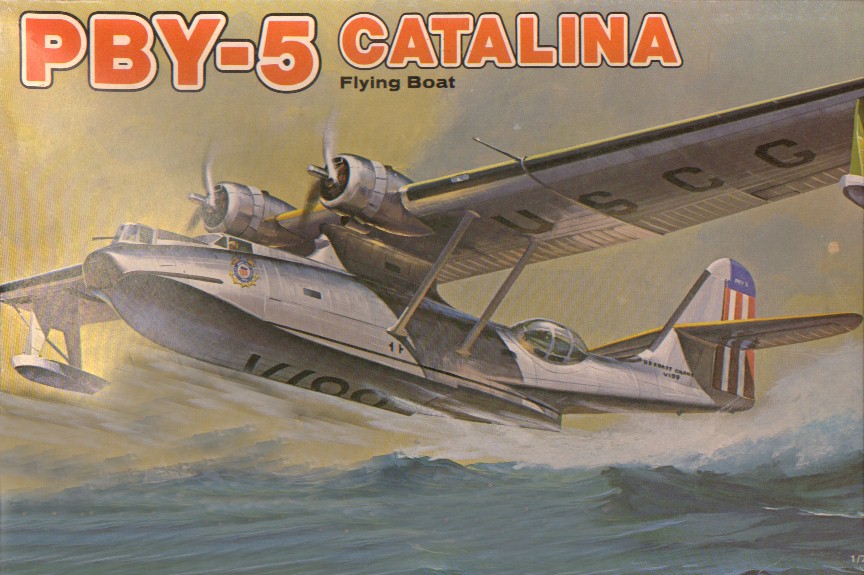 During his tour, he was stationed in Panama and flew around to bases in Central America and northern parts of South America. He monitored and controlled the engines on the planes while in flight and maintained them on the ground.
At the end of the war he returned home to Brewerton. . Armond was a race fan from way back.
He and his brother Normand went to Indy on a couple of occasions and went to the midget races across the street from the speedway where the Indy drivers raced all day and the night before the 500. At home, Brewerton Speedway was constructed where midgets were raced each week for the first few years. After that it was stock cars, with the brand new Nascar tour racing there a couple of times in the early 50's (Lee Petty won one of the races there). He made trips of four hours on the country roads of the time to see midgets run in Owego (near the PA border). He told of Grampa Grisbeck that had an Offy and ran there against the outboard and flat head Ford powered cars of the time.
He was dating Lucy Nash from nearby Cicero who was in Nurses training in Buffalo at the time. When they were married, she quit nursing school and they and moved in with Armond's parents on the farm that they had moved to when Armond was a kid. It was a half mile up the road from the hardware store. On the farm there were a few cows and some horses, a chicken coup and a big barn and 120 acres.
It wasn't long before I came along in 1950 and my sister Ginny in 1955. In '52, Armond's father gave him some land to build on, right next door. Armond and his father in law built his house on a corner of the family farm.
Armond now worked in the family hardware store full time, with his father and uncle. It was the typical small town store that had everything from harness parts to lawn mowers, nuts and bolts, electrical, tools, paint, etc. They repaired shoes and there was a machine shop in the back that had drill presses, sheet metal fabrication, saws, forge, pipe machine etc. Armond would make things and repair items for customers and for home. He like taking things apart and fixing them or building something special from off the shelf parts.
He bought the store from his father in 1960 and the store became his life long work. He opened it at 8 and closed at 6, and took Sunday off. He never took sick days and never was closed. He stayed healthy and worked even when he felt sick. When he was not at the store, he made the most of his off time.
Living near Oneida lake meant that a lot of time was spent on the water. He and his brother owned a CrisCraft mahogany inboard boat that they used during the summers. When that was sold, They each got a boat for their families and we spent two or three evenings a week on the water. Mom would make dinner and take it and us kids to meet him at the store at closing. We would head to the dock and get in the boat to go out on the lake for swimming and skiing, dinner and a boat ride down the river at sunset. He liked to water ski. On weekends we would go boating with my mother's sister and her family in their boat. He's always had a boat and loves the water.
For a time in the 60s, he had family season lift tickets at a snow ski mountain an hour away. We would night ski one night a week and go all day Sunday. He was the best skier in the family. After skiing for a number of years, some friends got snowmobiles and he and a friend decided to build their own, from plans in Popular Mechanics. They were plywood based with 7hp motors and homemade tracks. They worked and he played with his and fixed it a lot and finally got a Skidoo.
We spent many nights after work and all day Sundays on the snowmobiles. At first it was he and Mom on the machine with the kids on a toboggan behind. Eventually he got a second machine. Many nights he'd go snowmobiling with his friends and I'd go along on the other machine.
For several years Armond and Lucy went with a travel group on different trips to the Bahamas, England, Spain, Germany as well as trips to Vegas, Florida and Nova Scotia. With their motor home they traveled all over NYS taking weekend trips to fairs and shows, resort towns, Adirondack mountains, the Lake Placid Olympics and campgrounds. In the 90's we went camping with Dad to Nascar races at New Hampshire every year and to Charlotte to see the shops and the races. Dad never stayed still. A vacation meant seeing everything there was to see.
Back when I was about 5, he built a go kart for me. It was a kit that he sold in the store that used a sheet of plywood for the frame and had all the steering and drive axle parts in the kit to bolt on. It ran really good and I ran it so much it wore out the wheels and tires. He built a better one when I was 10. My uncle had a real steel tubing frame kart and we used to go to an old unused paved parking lot on Sundays and take turns running the kart as fast as we could. Dad bought a real kart for me when I was 14 and I drove it every day on the long driveway back to the barn.
Dad loved racing. We never went to a ball game or any other sporting event. He never cared for stick and ball. But racing.... I was going to races before I was born. I remember being in the stands at Brewerton and falling asleep in my mother's lap. During the '60s we never missed a race at Oswego and went to races Friday, Saturday and Sunday and any mid week specials all around the area. We saw all the greats of the time in everything from Usac Midgets to Formula One.
We watched USAC Champ cars at the fairgrounds mile, supermodified races at Oswego, dirt and pavement modified races everywhere and watched Jim Clark win in formula one at Watkins Glen. He had even watched formula one races when they ran on the local roads at the Glen before the track was built. He would go to the first race of the season at Reading, PA each spring to see the USAC sprints and modifieds run.
Armond was able to feed the family and afford to have fun but never exceeded his means. He was able to put my sister and I though college. My sister loved horses and she and Mom went to horse shows while Dad and I went to races. He built a garage that eventually became the barn for a couple horses, ducks, goats and other animals we had as pets. He would feed the animals each day when he came home from work and spread manure with the tractor. My sister showed the horses and after going to Morrisville College for Horse Studies has been a trainer ever since. She lives only a mile away from our parent's home.
While I was in college, I worked for Dad in the store and he went with me to race my kart on Sundays at different tracks in NYS. When I got out of college I got jobs as a broadcast engineer at a few radio stations and saved my money to buy a midget. My mother was furious that I got a real race car, but Dad was eventually allowed to go racing with me.
For one season we went to Grandview Speedway each Sunday to race with ARDC. It was a four hour tow into Pennsylvania. He was always supportive no matter how bad we did. Actually he was always too supportive and never pushed me to win. We would get in from Grandview at 3am Monday morning and Dad would always open the store on Monday on time.
After a few seasons with the midget I got a sprint car and was traveling around with URC for a season. The next year I ran Port Royal and Susquehanna every week, leaving Saturday at noon. Dad was not able to go along with me on Saturday... that being the busiest day at the store.
When I moved to PA and raced full time, Dad only got to see me race a few times a year, when I would travel back home and race with the Outlaws as they passed through NYS. He saw me finish 6th with the Outlaws at Lebanon Valley one year, our best run with them and he went to the races we ran at the fairground mile at Syracuse.
Dad was a fan first and not interested in being in the pits and never worked on race cars until I got one. He wanted to be in the stands, up high enough to see everything and every lap of every class. He didn't miss much. He had no favorites but always liked a good close race, clean passing and liked to see the underdog win. He always had awe and respect for the consistent winners but liked seeing them get beat. When he wasn't at the races, he'd watch oval track races that were on TV. In the 60's we would go to Loew's Theatre in Syracuse each year and watch the live Indy broadcast on the big screen.
Armond always like machinery and bought the John Deere tractor and bulldozer that his father had used around the farm. Dad had used the equipment for years for everything from plowing snow to digging for foundations to gardening. He joked that he didn't need a wheelbarrow or a ladder because he'd just use the bucket of the dozer. (see Armond's old Iron <<<click here)
He was given an old hit 'n miss engine with big flywheels that he worked on and fixed up so that it would run. He got the bug for collecting them and would take a trailer full to local antique machinery shows with the old
'71 Bonneville he still has as a collector car. He loved those huge cars.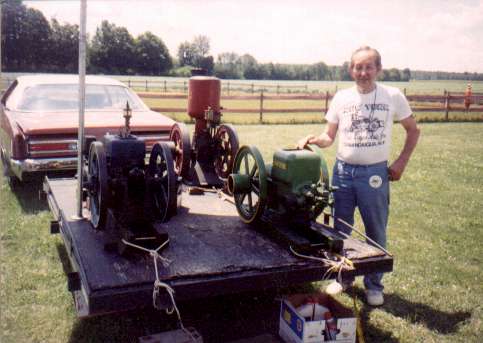 He would work for hours cleaning up the old engines, to get them going. He has a collection of 30 or more old engines and machinery. He went to a lot of old engine shows and we went to several in Pennsylvania, and one in Indiana.
He also has collected toy trains to go with the ones he still has from when he was a kid along with lots of old toys. I gave him a player piano and he collected lots of rolls for it and works on keeping it's mechanisms operating. He and Lucy would help fair goers to pump player piano and load the rolls at the state fair musical museum display each year.
About the time that I was getting burned-out with racing full time and having some bad seasons, McDonalds came knocking on Dad's door and wanted a corner of the farm that was owned by his mother, next door. Dad always handled his mother's affairs after his father had died in the 70's. He eventually told me about the McDonalds offer and I helped put together a grand plan for the whole farm that would be a business that could support the whole family. With a McDonalds restaurant on the corner, we could build a small shopping center next door, with a large hardware store and develop the rest of the farm with housing like his father had done with a piece of the farm back in the 50's.
Dad was in his mid 60's then, but went along with the plan that included moving his house and his mothers house. I quit racing and worked 24/7 on the project for two years and by the end of the 80's we opened the new store, now 7 times the size of his old one, with all new fixtures and merchandise. Dad couldn't handle it alone so I ended up managing the store. He just wanted to help customers so I took care of the office work and helped customers too.
We were now opened 7 days a week, 8 to 7 mon - sat, and 10 to 3 on Sunday and either he or I were there when we were open. We traded every other Sunday off and worked that way for the next 10 yrs. I got half of the development plan done but the economy went in the toilet in CNY and lots and lots of big retail and big hardware competition dropped in all around us in the early 90's and by '98 we were ready to get out. Somebody came by with the right offer and we signed. It took a year to close but after that Dad was in his 70's and very ready to retire.
He has stayed active and skiied at times, went out on the water in the boat often, travelled some, took a snowmobile trip in Yellowstone and went to races. He and Lucy have spent time fixing things up around the house and doing things they enjoyed. He's enjoyed swimming in the pool at my house (his father and mother's old house) that is still next door to his after the houses were moved. He always wanted to be where the action is and was ready to go anywhere, anytime, if only for the ride.
Then I decided to get another sprint car and he was there helping. We did the electrical and sheet rock in the new garage, when the contractor had finished, and moved the heavy shop equipment from storage. He learned about the car and helped in the shop making spacers on the lathe, cutting things out on the band saw and putting things together.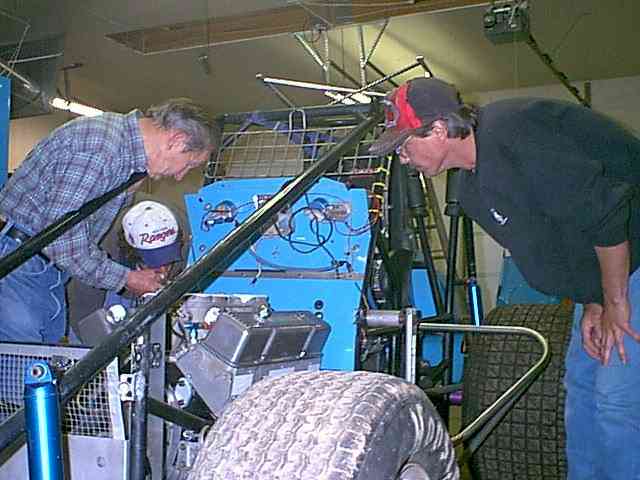 Now he had time to go to every race. He has always been active and still keeps his week full doing stuff around the house and in his garage, as well as going out to eat, going to horse shows, fairs, races, running his tractor and dozer, working on old engines or machines, the race car and what ever comes up.
His stroke in June 06 was more than he could survive. He went out the way he wanted... active and fully capable to the end and then quick and painless. For me the end came years too soon. I wasn't done having fun with him.