Lernerville
---
The first time I ventured away from known territory I left Central New York and headed for Eldora for a tuesday nite special. Then the next days it was on to Chillicothe Ohio, Tri City Speedway in Western Pa, and Lernerville Speedway, north of Pittsburg for their regular friday nite races. I had traveled alone, picking up crew at the tracks. Lernerville was only a couple of hours south of Tri City, a short drive that landed me in the empty parking lot, late that friday morning. I pulled up to the back of the grandstands and got out and walked around. It was a nice little 1/3 mile with adequet banking and no walls, except in front of the grandstands.
I went back to the van and rolled the car off the trailer to check things over and make the repairs and adjustments from last nights racing. After a while a man came out and said hi while looking over the car. He asked who I was and where I'd been racing and how I did. He was very friendly and we talked while I worked on the car.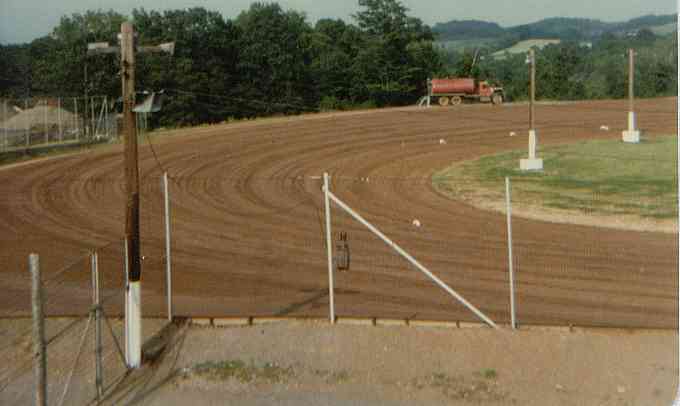 "What do you think of the track," he asked. "Looks like a nice track," I said thinking about the surface and the layout. I hadn't paid much attention to the rest of the place. Racers think about racing and the rest of the facilities at the track you sort of take for granted. "Let me show you around. I own this place," he said with pride and the warmth of an old friend. I walked along with him and he told me how he owned the trucking company across the road and had bought the speedway some time ago.
"I used to just run the races because I liked the racing but then I started fixing things up and I finally decided to just go first class with everything and it's really paid off," he told me as we walked around to the fourth turn restrooms. We went inside and he pointed out how he's had this building built of cinderblock with new fixtures and nicely painted walls. Each week he'd have someone paint over any grafitti. The place was very clean.
We walked back to the tower at the center of the grandstands and we went into the concession at ground level. "I have a cook that makes all of our stuff. She's around here somewhere. People come to the races and want more than a hotdog so we have meatball sandwiches, spaghetti, BBQ, steak sandwich, pies and a lot of other things that we make right here. Real home cooking."
We rounded the corner to find an older woman who had all the burners covered with stock pots simmering a grandstand full of food. She had a friendly smile and Don introduced me as one of his sprint car drivers. "Tell me what you want to eat and she'll get it for you," he said. "No that's ok," I said, not really wanting to impose, "I'll get something later." "Well here take this and this and one of these..." he picked up food and loaded my arms as we passed through the kitchen.
"I installed a walk-in freezer right here so we can buy in quantity and keep it fresh. Everything in here is new stainless steel so we can keep it clean. The people enter from the left or right side and pick up what they want on these carriers. It's set up like a cafeteria. The cashier is at the center where they exit." It was clear that he had put a lot of thought and money into things most of us never saw.
Upstairs was the office, announce booth and VIP room with two teirs of fold down movie theatre seats, a bar and staff to serve. Out the window I could see the kids he had painting the tires white, that were buried around the inside edge of the track. It was quite an operation. I went back to my car and loaded up and he told me where to go to get in the pit and where to park so I would have light and not have far to push the car to get in line. He signed me into the pits, no charge, and went back to the tower to make sure everything was ready for the night's racing.
It was the first week of June and the bright sun had baked the moisture out of the track all week. The watertruck droned around the track breaking the silence of a pleasant afternoon.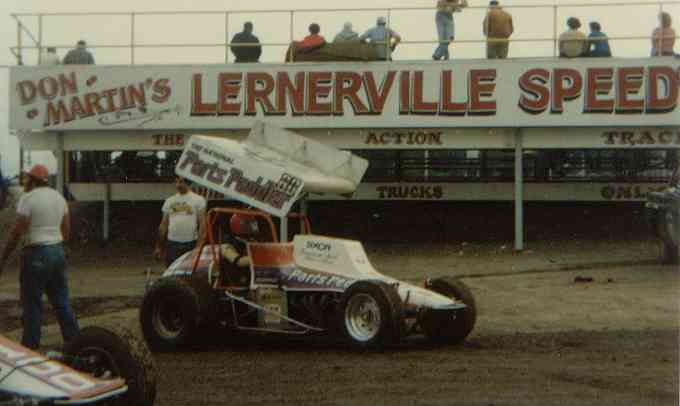 That night the 6 classes of racing went off like clockwork. We were lined up with push trucks ready to go as soon as the last car crossed the finish line in the race before us. I had a tough time making any headway that night. I started in the middle and ended there and never really got the car to handle all that well. It was all over at 10:30 and I went up to the VIP suite after the race to say thank you and goodbye. I was not alone. Many of the drivers were there, as were friends and some fans and Don was smiling as he introduced everyone to everyone.
"How'd you do tonite," he asked when I approached him. "Thirteenth. I just couldn't get hooked up at all. I didn't think it would get so slick" I apologized. "Well, it was your first time here. The track stays smooth but it won't hold the moisture if we don't tear it up. If we tear it up it gets rough and it's hard on the guy's cars." he said almost in a whisper. He was right. It was really easy on the engine and didn't even wear the tires. But it was a lot trickier to set up for than I had guessed. "Do you need a room for the night? he asked. "No I'll head down the road for Port Royal tomorrow night."
"Thirteenth does't pay much. Here. Take this and have a steak dinner." He pulled out a handful of money and peeled off a fifty. We both knew a struggling racer would eat a burger at McDonalds and buy gas or race fuel or put it toward a tire. It didn't matter though, he was glad to have me and I was overwhelmed with his generosity and friendship. As I went down the stairs to my van I thought, here I am, a nobody, in my first full time year of racing and he had treated me like a champion. I never forgot him and his generous nature. I told so many other drivers about the place and the man that I can't keep count. I heard the same kind of stories from everyone that raced there.
Every year we would travel to Don Martin's Lernerville Speedway to race.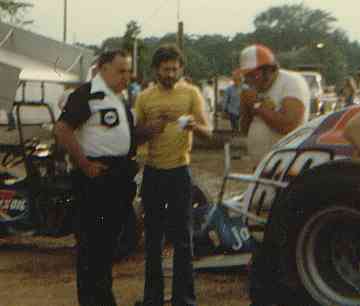 Partly because it was our best deal but also because we felt we wanted to support him and we just liked to be there. Over the years he gave my whole crew Lernerville track jackets, and when I'd talk another racer into racing there he'd treat them the same. Once when I crashed real bad at an Outlaw show there, he gave me several hundred dollars to help buy the parts we destroyed. One night he even stood at the back pit gate and personally told every team that came, that the track wasn't working in well because of the rain that week and it was going to be very rough so he didn't blame them if they didn't want to race that night. Everybody raced.
Don was liked by everyone, racer and fan. He was voted Promoter of the Year a few years back. His joy was giving the people all the racing they could stand, and making every racer feel like a winner. I would see him at trade shows and at other tracks and he always made me feel like a good friend. After I quit racing, I'd often thought about going back, as a fan, just to say hi to Don. He will be missed. -- Don on the left. --
Home Racing Again! 2003 Shampine Sharon Speedway Getting Started Knock Out First Win! Port Royal Win Lernerville Harry and the 35 car Putting it all together Syracuse Mile More Syracuse Mile Flat Out! Springfield Travelin' Spooky Coincidence Adventures of Carl and the Airplane Diary 2000 Send Email