Jim Shampine a legendary racer.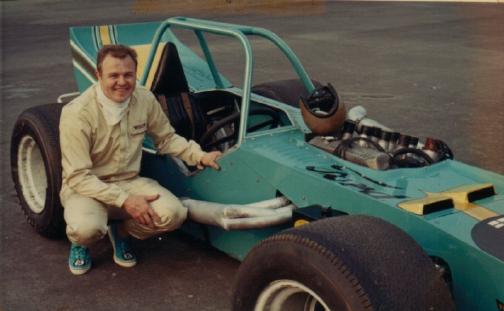 Photos supplied by RetroRockets.org, taken by Don Kranz and Bill Hartwell
Jim had had a stellar career of racing Supermodifieds at Oswego.
He had won everything there was to win at Oswego and revolutionized the cars
several times. In fact his designs were so dominating that his cars obsoleted
the rest of the field a couple of times.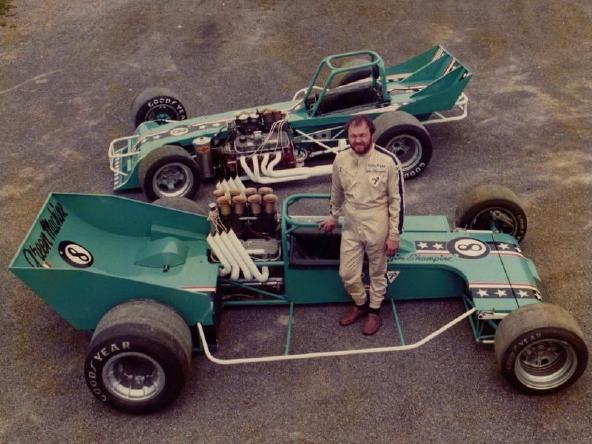 Photos supplied by RetroRockets.org, taken by Don Kranz and Bill Hartwell
Jim was an idol of mine (as he was to many racers and fans). I had watched him
race for years, winning lots of races, championships at Oswego and winning in asphalt and dirt modifieds. He was the bench mark for supermodified drivers and builders
and for me, he could do no wrong.

I had gotten to know Jim when I rented a garage in Bridgeport NY,
around the corner from his place. I was still living nearby in Brewerton, NY.
When I needed help with something or needed to use a piece of his
equipment he would always give me a hand. This was during the time
when he and crewman Kevin were building the very offset, rear engine car.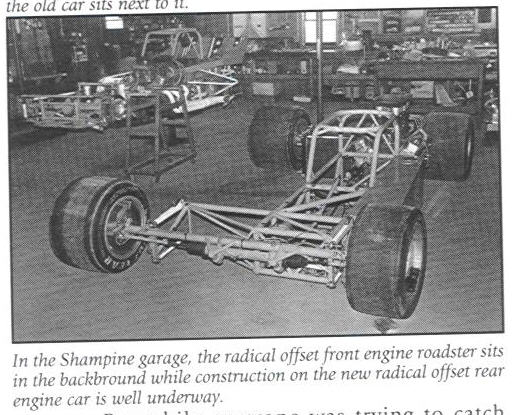 Photos supplied by RetroRockets.org, taken by Don Kranz and Bill Hartwell
The car was so threatening that Oswego banned it after one year of
competition.... and that was the last straw for Shampine at Oswego.
He decided to go sprint car racing. Jim bought a new chassis from
Charlie and Mike Lloyd in PA, car owner/builder for the Smokey Snelbaker 56,
who had been winning a lot of races in recent years.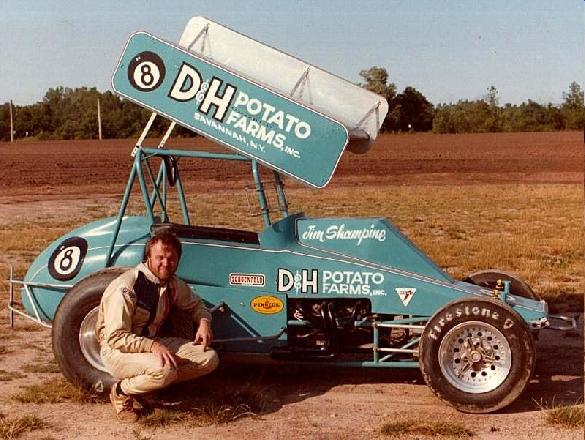 Photos supplied by RetroRockets.org, taken by Don Kranz and Bill Hartwell
Jim and I had a few occasions to race together and usually we'd pit next to each other.
He was helpful and friendly and it was important for me to do well in front of him.
I remember once at an Outlaw show at Lebanon Valley a reporter came
up to him and asked why the cars were lifting the RF tire when they went
down the straight. The questioner was a tech writer for Open Wheel Magazine
Jim was evasive and said he didn't know, whereby the interviewer started making
statements about chassis twist and the modulus of steel and a whole bunch of
uninformed speculation. I knew the answer and stood there, thinking
like a third grader would, with his hand in the air,
saying "Oooo, Oooo, call on me, call on me". But I didn't say anything.

After the interviewer left I asked Jim, "Don't you know what's going on
there?" and he said, "Sure, but if I told him, he'd get it all screwed up
when he wrote it. And then he'd credit me with all that wrong information and
I'd look like a fool".
Ahhh, the voice of experience; he had been stung before.

Jim chased the PA and NY Outlaw races that year. We were pitted next to
each other at Williams Grove and Jim had been having trouble with his
injection so I was helping him with a leak tester I had. Duval tapped me
to let me know I was in the first heat, so I got in the car and was pushed
off to race. I started on the front row and used the still tacky track to
run away with the heat win. I had run here enough to know that after the
first lap at this track everyone gets spread out and it is common to win a heat at Williams Grove
from the front row. I also knew I was on the front row because I had timed
in about 20th. Winning the heat meant I would make the A-main, but I
would be getting my time back and start about 17th. I was happy to win the
heat but I knew it's real value. Jim was very impressed though and that made me
happy.

So later that year Jim and I showed up at Sharon Speedway for a regular
Friday night show. It had rained and the track was sloppy. It was getting
late and they hadn't been able to get the track run in with the packers so
they sent out the race cars. When the sprints got on the track there was
one groove and that was greasy. I knew that the only thing to do was warm
up the engine and keep the car from getting loaded with clay.

After a few laps they dropped the green and Jim came around the outside of
me coming out of two and blew by. When we got to three I backed off way
early because it was so slippery, but Jim hauled on in there. His car went
mostly straight, right into the third turn wall and flipped.
Jim watched the rest of the races from the pits. I had a particularly good night running
second to Dave Blaney. It amazed me that with as much experience and
patience as Jim had, that he misjudged that track and ran that hard in
warmups. It reminded me of when I drove in on the wet cushion in warmups at
Port Royal once and stuffed it into the fence. Seemed like a good idea at the time.

Jim won a few races with the ESS group in NYS and after a couple of seasons
with the sprint car he parked it and got together with Clyde Booth and they built another supermodified and went back to Oswego and winning.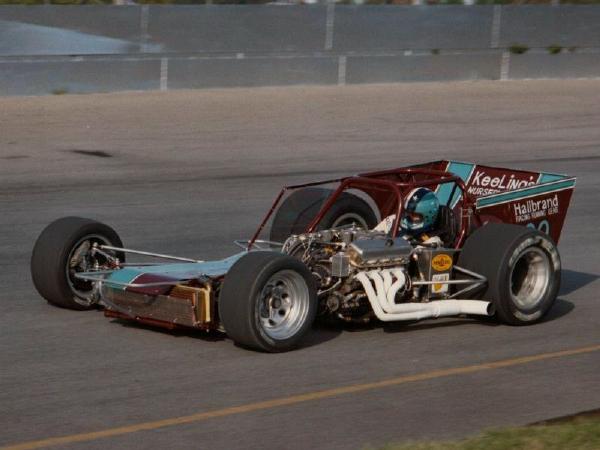 Photos supplied by RetroRockets.org, taken by Don Kranz and Bill Hartwell
A few years later on a Sunday morning, Labor Day weekend, we were at Expo
Speedway in Northeastern Ohio. Either an All Star race or an open show, I don't
remember, but most of the area teams were there. A warm sunny day would
make this flat track a dried out place and that made our chances good.

Duval, and Cheri and Teresa had driven out to Ohio to meet up with me for the
weekend's racing. While we were getting things ready I went over to the
tire truck to get some tear-offs. Some of the guys were talking about
someone getting killed last nite. I asked who and one of them turned and
said "Shampine".

My stomach sank.

He was in a quality pavement, full bodied modified for the annual 200 lap modified race at Oswego. A simple spin and bad timing with on coming traffic cost him his life.

I can't describe the feeling. I guess some people call it numb. It was
somehow distant for me. I knew that race drivers get killed and accepted it.
But I knew Jim, and that was different, it left me hollow.

We raced that day and had a top 5 finish. The thought of loosing Shampine
was replaced by the total concentration of driving the car and solving the
setup puzzle for the day. After the race we packed up and headed down the
road.

This race weekend was a busy one. I had a ride in a modified at the Syracuse
Mile Monday afternoon and planned to race the sprint at Selinsgrove that
night, 4 hours south. That Sunday night Duval drove and I rode in the trusty
black van down I-90 to Syracuse while his wife Cheri and Teresa drove the
cube van towing the race car from Ohio down to Selinsgrove.

Jim was one of my racing heroes and it was an honor to know him and race
with him. As Duval and I went down the NYS Thruway (I-90) a huge display of northern
lights lit up the starry sky.

Home Racing Again! 2003 Shampine Sharon Speedway Getting Started Knock Out First Win! Port Royal Win Lernerville Harry and the 35 car Putting it all together Syracuse Mile More Syracuse Mile Flat Out! Springfield Travelin' Spooky Coincidence Adventures of Carl and the Airplane Diary 2000 Send Email