Getting Started...
---
The family of cars that ranged from the Indy roadster to the midget were driven by the well known names that raced at Indy. It was a time when the greats would travel the country and race at fairgrounds and local tracks. It brought the spectacle of Indy to the fan's home town. It was also a time when great Indy drivers came from the local tracks and made their way to the prestigious USAC series. Foyt, Andretti, Rutherford, Johncock, Unser, Bettenhausen... all the great names ran midgets, sprints and the Big Cars (now the Silver Crown cars).
I had a great respect for these heroes. A lot of that respect came from my father and my uncle Norm. They would go to races everywhere. My father is a devote race fan and still goes to the races every week. He enjoys the local races but the stories about his trips to Indy and the midget races of the 40's were what caught my attention. Recently I ran across four negatives of pictures he took at one of the midget races he went to on one of his trips to Indy. As he tells the story , the track was right across the street from the speedway and lots of midgets came to that race, the day before the 500. Some trailers would have two midgets stacked one above the other. They'd start at noon and run off a program of heats and a feature, empty the place and reopen at 4 for another show, empty the place and open the gates again for the late nite show that would go until the wee hours. Some of the Indy drivers would race there and the racing was exciting.
Around home we saw many of the Indy stars race at the annual 100 mile race at the fairgrounds in Syracuse like Hurtubise, Foyt, Unser and all the names I heard Sid Collins call during the Indy 500 radio broadcasts. Andretti raced when the sprints showed up at Oswego. Mel Kenyon and Poncho Carter ran midgets at a local dirt track in Weedsport, NY and we would go to the USAC sprint opener at Reading Pa. I remember standing by the fence and looking in at these mysterious cars in awe, wondering how they were put together. The most exciting thing was to see them run. Fast and sleek in their day, the cars would charge into the turns side by side, tail to the fence, drivers hard on the throttle, rooster tails of dirt being pumped from the rear tires. The great drivers never backed out of a hole. The brave drivers ran hard right on the fence. The unlucky drivers flew through the air.
Before cages were added in the late '60s it was a very dangerous sport. I didn't get to go into the pits as a kid, so I didn't see the guys walking around with one arm or other injuries. I did hear about the heroes that were killed. The paperboy would go through the stands yelling "Illustrated Speedway News Here", holding up the front page over his head with the picture of a sprint car, sky and the drivers arms stretched out over his head. A lot of guys got hurt and killed in the 60's. The roll cage made it safer.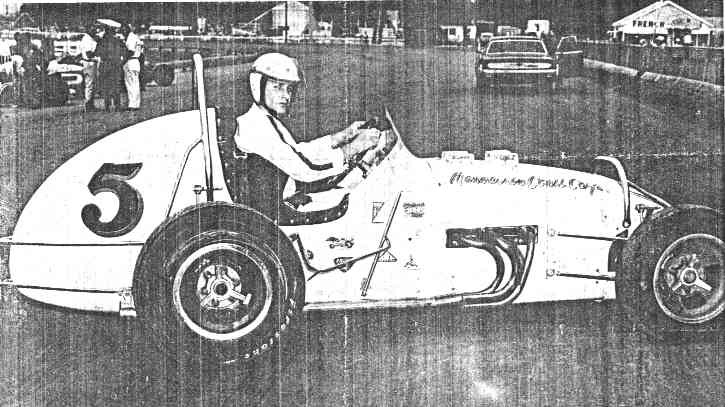 Stock cars and Super modifieds were king of the sport around Central NY and the normal thing for me would have been to race a Dirt modified close to home at the track we went to every week like the one in Brewerton, NY, just a mile down the road. But when I was young and had a paper route, I delivered to Gillette's Shell Station everyday. Pete had winning stockcars, the 1940 coupes that were the standards of the 50's and 60s but his son Donnie had a sprint car.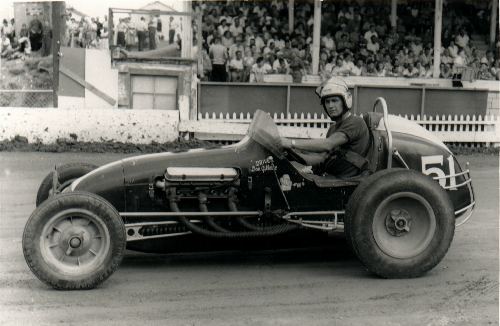 Don Gillette in his sprint car.

There was just something about that sprint car. He did a lot of traveling and I don't think I ever saw him race it. But it was a sprint car, just like all those Indy heroes drove, right down the road from me.
Through my teens and while I was in college I raced go karts. One time at a track in LeRoy, NY a guy came over and talked to me in the kart pits.
His name was Bob Martel from Rochester. It was my first time at that track and he was telling me about the track and the other racers and I asked him if he was racing. He said he raced but that he had a full midget. This was the first time I had met anyone with a midget and I asked all about it and asked what it was like to drive it. He was very supportive and when he told me that he thought that I knew enough to drive one I was hooked. When he told me that he traveled to Pa, NJ, Oh and New England, I realized that I could go there too. Then when he offered to let me drive his car in warm-ups at an upcoming ashpalt race, I was excited.
At that race, he had trouble with the engine and didn't make warm-ups so I didn''t get to drive it but I was there in the pits and helped with the car and knew that I could do this.

One of my early Karts and trophies

I have always been mechanically inclined. My father and I always took things apart and repaired them and I had worked on my go karts since I was 5. But we never did much work on full sized cars. When I bought my first full race car I had never had an automotive engine apart much less work on a race car. I had a lot to learn.
Bob gave me a good idea of what to look for and that fall an ad in National Speed Sport News looked promising and when I called and talked to the owner I was sure this car would be a good start. It was a Kurtis Copy (from a builder in Illinois) with a Chevy II. Clean out the garage! Jay Nasby was the car owner and lived in the town of Maybe, Mich. near Detroit. He had crewed with Johnny Rutherford at Indy and owned this midget that he raced around Mich., Indiana, and Illinois and had a few different drivers in it. He had diabetes and didn't drive the car and that summer he lost his eye sight from the disease. Now that he couldn't see and work his construction job, the car had to go. We sat at the kitchen table and I recorded a couple of hours of him telling me how to set up the car and what parts were in it and how things went together. I paid him and started the 10 hr tow home.
When I pulled in the driveway, my mother had a fit and my father was torn between supporting my mother's dislike of me racing and wanting to take a look at the car. It was November and I had the winter to smooth things over. Mom never watched me race.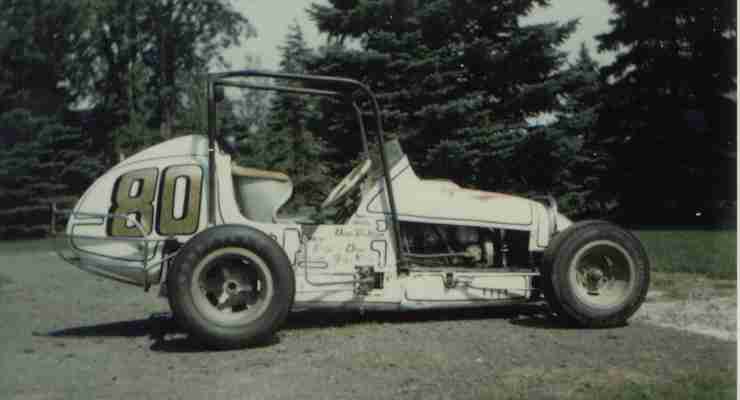 The car was a torsion rear, cross leaf spring front, rail frame design. It was an out of date design but a good starter car. I got my friend Terry Fergerson to paint it and letter it. He did the number in gold leaf and it looked pretty good. The first race was at Flemington, N.J. I'd never been there before. I'd never been to N.J. before! There weren't any midget races within 200 miles so it was off to N.J. We took the long, wrong way to the track and arrived shortly before warm-ups.

The Kurtis copy midget
I didn't have a clue how to set the car up with so I put on the old hard Goodyears I got with the car and went out with the rest of the cars. I was driving around as fast as I could go with a bad push in the car. At this track, that wasn't so bad to start with, for a total rookie. I was passing cars on the outside and waiting for the car to turn in the corners before I could pick up the throttle. I figured the other drivers were pros and didn't need to run hard in warm-ups and that's why I was passing cars like I was.
When I came into the pits the SMRC club president came over to see how I was doing and brought over Fast Eddie who helped and spent the rest of the night trying to talk his way into the drivers seat. Eddie said everyone was running as fast as they could in warm-ups and this must be a fast car. The car handled no better in the heat but I did qualify for the feature after starting last and passing a few cars. One of the drivers, (Mike Dee?) came over after the heat to talk to Eddie and asked how we were doing. He looked at the tires I had and said those won't do, use mine. His car had broke and so he jacked up the rear and took the tires right off his car and brought them over to me for the feature. What a guy! Tires didn't wear then like they do now but that was still a tremendous gesture for a guy I didn't know. He brought over a pair of Dunlop tires with the correct stagger and compound. We put them on the car and went out for the feature.
I started last. It amazed me that I was able to pass cars and get through the corners. The car still pushed but it didn't spin coming off and the motor was strong. I must have had the right gear in too. By the halfway mark I had gone from 24th to 7th and then the motor quit. The cam gear broke and left me sitting on the inside of the track. They pushed me in and after the race several teams came around to see me. Eddie was proud as a peacock for having taught me everything I knew and setting the car up.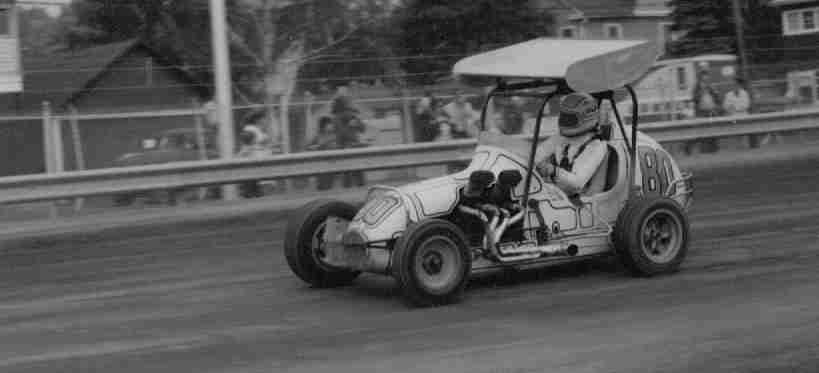 The wing was built by Freddie Graves, super modified driver and now Winston Cup Crew Chief.

That first race was a good run followed by a 7th at Penn National and a 3rd at Little Valley that season. I only ran a 8 or 10 races that year and got some help from a local kid named Whip McNish. He was still in school but had a background in cars and was a good mechanic. He and I worked on the car and along with other friends, traveled around racing with the Super Midget Racing Club at tracks and in towns like Little Valley, Penn National, Five Mile Point, Riverhead, Worster, Reading, Grandview, New Egypt, Atlantic City, and Bloomsburg. The next year we raced with ARDC each week at Grandview Speedway near Allentown, Pa. My father was able to go with us most times and although we had a hard time running against that group of tough drivers and good cars, we had fun. The ARDC group ran hard at Grandview and had lots of cars. Dana Carter, Jim Hettinger, Leigh Earnshaw, Van May, Smokey Snellbaker, Bob Cicconi, Lenny Boyd, George Ferguson, and a field of very experienced drivers put on great shows each week at the very high banked one-third mile dirt track under the flags of Nick Fornora. Even if we didn't make the race, it was great to watch.

Grandview banking, Earnshaw and Cicconi out front.

Midgets are expensive to run and the purses were small. As I got to know some of the people who were involved in sprints I began to think that I could afford a sprint car and that I could drive one. I sold the midget to a very nice man from Binghampton, NY and had the chance to drive it for him a few more times.
I had an idea of what I was looking for in a sprint car and one day the ad appeared in National Speed Sport News with the right combination. It was a Tobias (Grant King copy), four bar chassis with a Myles Engineering engine. I knew Tobias's reputation in modifieds and saw him run USAC sprints. Gary Myles of Cleveland, Ohio was the engine builder of choice at Oswego and had owned cars that ran there for years. Dick Bullock (Music House in Erie, Pa) owned the car and was selling out.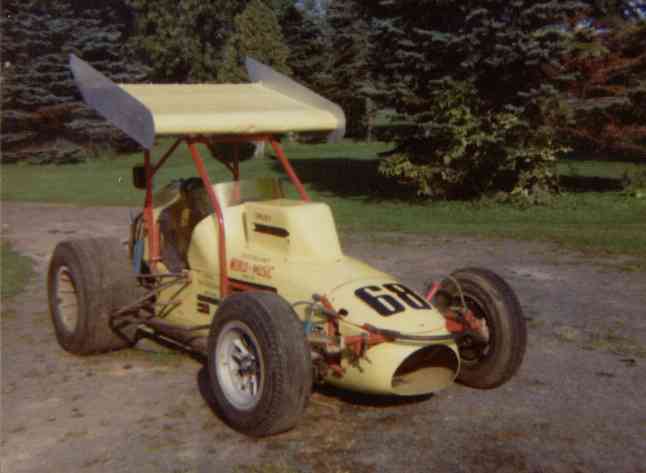 I had seen the car run once at Fonda in a URC race but didn't remember much about it. When I saw the car in his garage and talked price I knew I could afford this car and I bought it. We loaded up the trailer and van and cleaned out the garage.
At that time and for the next several years, I was the only one that I knew of in New York State that owned and raced a sprint car. Jack Crawford and Rodney Payne from the Binghampton area joined in later, but I was in modified country and there wasn't any sprint car know-how to be found. The help we got was based on the modifieds for setup but when you put the wing on a sprint car everything changes.

First sprinter, just as I found it.

Whip and I worked on the car and Les Temple helped when we went to Pennsylvania in early March for the opener at Port Royal. We left 3 ft of snow in Brewerton and arrived at the track with temps in the 40's. The car wouldn't start. Turned out to be a bad mag but we worked on everything and didn't get it figured out there.
The race was amazing. Jay Meyers ran the #35 sprinter hard into the 3rd turn where we stood and watched. The car was hooked and fast and ran sideways, with Jay hard on the throttle. (Ed Spenser Sr (Jimmy's dad) tangled with another car in the latemodel race and they both flipped. Ed Jr came out on the track and started punching the other driver in the face, through the drivers window, while the driver was still hanging upside down in the belts. It was fun to watch the Spencer family antics at Port Royal each week.)
We were back the next week and ran there through May. That car was twitchy. If I got the back out it would spin out (and I could do a 360 and keep going) but other than that it pushed. When we put more stagger on it was just more loose. I didn't know what I was doing and a few people would suggest things but we were out to lunch on the chassis setup. Now I know things that were wrong, but then we were learning, finishing races, at the back, getting seat time, and staying out of trouble mostly.
The rest of that year we ran with URC. I figured I had a better chance with them and they raced a few races in NYS. We ran Fonda, Weedsport, Canandaguia, Middletown and Five Mile Point as well as Flemington, Reading, Bridgeport, and other tracks.
Home Racing Again! 2003 Shampine Sharon Speedway Getting Started Knock Out First Win! Port Royal Win Lernerville Harry and the 35 car Putting it all together Syracuse Mile More Syracuse Mile Flat Out! Springfield Travelin' Spooky Coincidence Adventures of Carl and the Airplane Diary 2000 Send Email