Super Crew '03
Over the years I've had some great crew members that have spent long hours building new parts, fixing bent parts and standing ready in the pits. Crewing a Sprint Car is a lot of fun and can be a lot of work. While some teams are short-handed we traveled with six of us in a crew cab. I owe a lot to these guys. We would discuss what the car needed and I could depend on them to change the setup while I watched the changes in the track. We never dropped out of a race with a mechanical breakdown.
| | | |
| --- | --- | --- |
| | In the shop or at the track, 2003 has been another year with a great crew! I am forever grateful for the help of my father, Armond Wickham, brothers Greg and Rodney Moteyunas, their sons Ryan and Jeff. | |
Armond works on the sprint car evenings and weekends and at the track. He had his 80th birthday in Jan 03.
| | |
| --- | --- |
| | Greg was the crewchief for the 2003 season and kept setup notes and helped figure out what changes were needed. |
Rodney and his son Jeff were the tire specialists for the team. They kept mounting tires until we got the right stagger, offset and compounds where we needed them.
| | |
| --- | --- |
| | Is this kid happy because he is having his picture taken or because he gets to change gears again? Ryan and Jeff jumped in, to tackle the dirty jobs. |
The guys that made a difference.

There have been a lot of people that helped and contributed to my race team over the years. Everyone was a volunteer and paid their own way in. I can't remember them all. Every time I tried to put a list together I stopped because I didn't want to leave anyone out.

This past season has reminded me of how important those people were and I want to tell you who they are. I know I will leave out some, I'm terrible with names and I will get names wrong or not remember some so,

If you helped me or remember someone who helped, even if it was only one time, send me an email so that I can include them on this page.

Armond Wickham

, the first and most important person is my father. He took me to races all through my life and built my first go kart for me when I was five. When I was young, he took me to the go kart races and worked on the kart and watched. When I raced the midget he went to the Sunday night races even though it was a four and a half hour ride home and he had to work the next morning. He wasn't able to get to many of the sprint races when I moved to Pennsylvania but now that I'm racing closer to home he hasn't missed many. He helps at the shop and at the track. This year (2003) he turned 80.

Whip McNish dedicated himself to the midget and early sprint car racing. He was still in school when we first got together, but he brought a lot of know how and some friends along to help out.

Midget crew members

Whip McNish

Bill Dudley

Don Martell

Dick Church

Sprint Car crew members

Armond Wickham

Greg Moteyunas

Rodney Moteyunas

Ryan Moteyunas

Jeff Moteyunas

Teresa Strawser

Whip McNish

Tom Pickard

Jimmy Soule
Ron Van Allen

Troy Van Allen
Max Klingon
Craig "Mudball" Klinger
Skip Stoner
Duval Dressler

Clayton Dressler
Bob Stuck

Bert Weiger

Shirley

Clayton Dressler

Duval Dressler

Bill Simmons

Cheri Dressler

Cam Simmons

Mike Donmoyer
Skeets Gamble and the Central Penn crew
-

-

-

Skeets Gamble

-

Duval Dressler

Bubba

Burt Weiger

Brian Paulus

Clayton Dressler

Alan Paulus
Bill Long
Mike "Coolie" Cool
Davey Norris
Dennis Hired guy from Indiana
Tim Kuhn
Chet Fillip
Lots more - Contact me with the names you know.
There were also crew members that I worked with when I drove cars for other owners.
Many times I would travel alone and show up with out any pit crew at a track I had never been to before. There would always be some guys in the pits that would jump in and help out for the night. The great thing was showing up at that track a year later and the same guys would be there and were ready to help again. Sometimes they would show up to help the next night at another track.
Then there was the extra crew members on the car I was pitted next to, that would help me for the night.
Sprint car racers and fans tend to be a friendly bunch, .....family.
Recently I saw Jean Lynch at the Bully Hill Nationals. (She promoted races for Don Martin at Lernerville and then was the promoter at Sharon Speedway and the sprint races at the Syracuse Fairgrounds and much more). I hadn't seen her for years and I said "I couldn't stay away so I got back into it". She said something that will stay with me always. It was so simple, that it never hit me until she said it:
"You're here because that's where your friends are".
Exactly.... So many friends that I can't remember them all.
Duval and Cheri Dressler bridged the gap between crew and sponsor. When I raced in PA, I would stay at their place from one race to the next. Then, when I went to PA full time, they gave me a bed in the attic and fed me and washed clothes and worked on the car at the garage I rented.
Along with the Crew that helped, there were sponsors that helped out with parts and pieces. I would put their name on the car and I always tried to give the sponsor more, as much as, I could in return for their help. I wasn't greedy. I only asked for what I needed.
Once, when I was on the road, I had stopped at a speed shop for some parts. We got talking and he said that he was interested in another brake parts supplier so I got on the phone right there and called the owner of JFZ brakes, (who had been helping me with some parts) and I said "I have a speed shop owner here that would like to become a dealer" and handed the phone to the speed shop owner. I think things like that were why the companies were there when I needed them.
I handed out papers for the National Parts Peddler and sold subscriptions at trade shows and classified ads at the tracks. I worked on parts manufacturers and speed shops to advertise with the Nationals Parts Peddler, I worked with Corky promoting the newspaper and he worked with his advertisers to help me out with parts.
I would call the companies that supplied me with parts and get them to send a box of their advertising literature and we would make up packets of everyone's literature and hand them out to the racers at the tracks. I had lots of little deals. No one ever gave me cash.
Sponsor list
National Parts Peddler parts and pieces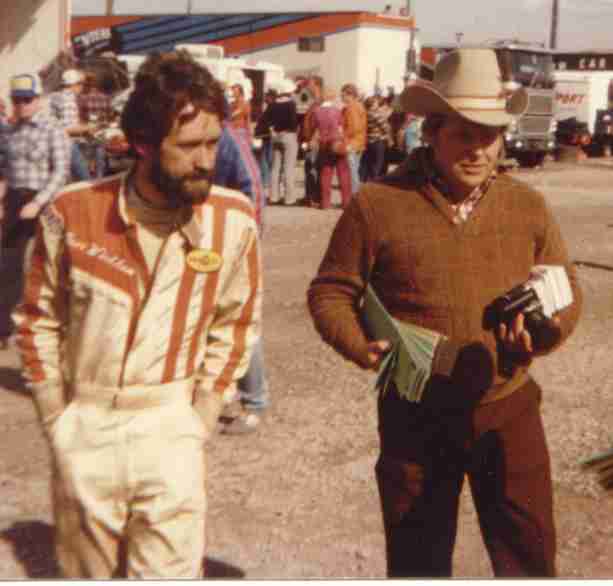 Duval and Cheri Dressler room and board
JFZ brake parts
Profile power steering
Moroso engine parts
Vertex magnetos
Dixon Steel chassis parts & running gear
Hutter Racing Engines let me work on my motors in his shop to save money
Girton Motors parts for midget
Ben Cook Race Cars variety of help, parts and breaks
Pennzoil all the oil I could use
All Radiator Davey Norris did repairs
Quality Electric took care of painting everything
Terry Ferguson lettering
Dr. Lynn Magargle doctor visits