TRAVELIN'
---
Sprints and midgets lend themselves well to independents. The cars are universal enough that you can tow from track to track, town to town and race. Through the 70's and 80's there were few limits on the cars and you could race about any where you wanted to. This barnstorming ability is what led to the outlaws. Not the "World of..." but the true outlaws; the guys that chased the big money races or showed up at a track because it was "on the way" and racing tonite.
Rick Ferkle, Bobby Allen, Jan Opperman, Stevie Smith (Sr.), Doug Wolfgang ,Steve Kinser, and many more chased around the country after the big money and the prestige races. It was a nomad's life, racing gypsies, outlaws who came to town fully capable of taking the top money and leaving the locals with what ever was left. The reputations grew as the stories spread of how so and so was there, and really put it to the guys the local fans had put on a pedestal. Like gunslingers of the west, the outlaws became legends. The outlaw life meant being an outsider, driving all nite, sleeping in the front seat of a pickup in the parking lot of a motel you couldn't afford to stay in, waiting for someone to leave a room open so you could sneak in and get a shower, working on the car in a parking lot, potato chips and ham sandwiches on the road and hot dogs at the track... none of that was important though, because those guys loved to race, as much as possible, for the big money. Not many point chasers in this bunch.
The promoters soon caught on, tracked these guys down and offered them a deal if they would show up at their next big race. They were given a room and guarentee tow money. The fans filled the stands at big money races because they expected "the names" to show up. When Ted Johnson organized the first WoO series it was basically a promotion of events with big purses certain to draw the best racers in the country. It worked and grew and has become the premier dirt track and sprint car series in the world.
When I started in sprints in '76 I was the only person I knew of in New York State that was racing a sprint car. URC did a swing through NYS but there weren't any locals outside of some modified drivers that would pick up a one or two nite ride. I had raced the midgets in NJ, Mass, and Pa; traveling was not new to me. I spent a season running as many URC races as I could but to get ready for that season, I went to Port Royal Speedway in Pa for 5 weeks in march and april before the URC season opened.
In that era, traveling in my small motor home (18 ft), towing an open trailer was going in style. The motor home was a slow tow but let us sleep on the road and save on motels. (I also drove it to work every day during the week). Traveling with URC allowed me to see different tracks and towns and I learned how to race and travel.
I ran with URC one full season and started a second one. The last race I ran with URC as a member was at Weedsport, NY only about 40 minutes from my home in Brewerton. I was actually driving for Leon Trowbridge from Towanda, Pa. I had my own car along but never unloaded it. Leon's sprinter hadn't been raced for a while and we had gotten together to run some URC and Pa races. Leon and his wife and sons had brought the car to the track ready to go. We qualified for the feature and during the race I dodged through a tangle in 3 and 4. I missed getting involved except for some contact on the right side nerf bar and header. One car must have flipped because they red flagged the race and I stopped the car and sat at the exit of turn 4. I could just see the nerf bar from the cockpit and I knew it was bent but I didn't know if it was going to be a problem or if it would fall off. One of Leon's sons came out on the track to see if the nerf was rubbing the tire or the ground and grabbed it and pulled to see if it was loose. It was ok and we were ready to go. When they pushed me off, they gave me the black flag. They considered that we worked on the car on the track and disqualified us. I- WAS- PISSED.
After the race and the discussion with the officials, I left... I left URC never to return... well, except for once. A year or two later I went to a URC race at Bridgeport, NJ. I can't remember why I decided to go to that one, but I did. I had to go through the NJ saftey inspection and all that and add stuff to the car that only NJ demanded. I was definately an outsider as far as the club and club leaders were concerned. Oh, I had my friends there, Jerry Robison, Bill Bauer, Brian Sidel, and others that helped me, but URC was a tight group and you were either in or out. I qualified for the feature and they started me mid pack or worse because I had no points and was racing on a temporary permit.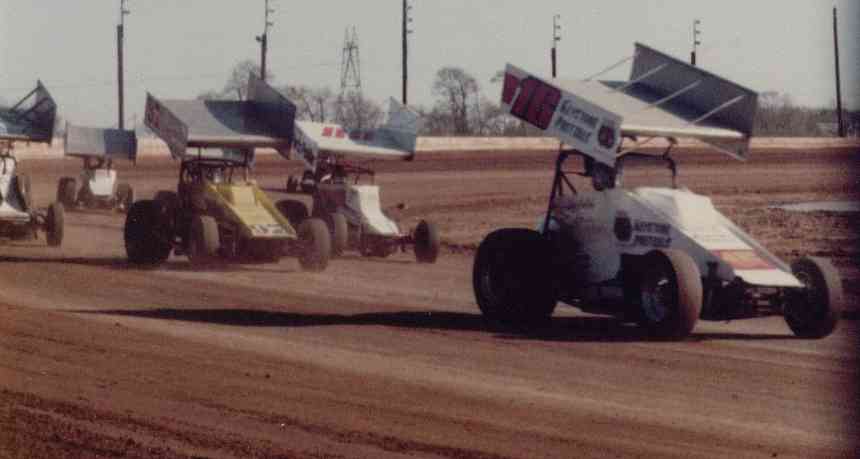 That day I hit the setup and the car drove great. There was just enough cushion to get a hold of and the rest of the track was slick. Somehow I managed to get by everyone except Brian Sidel for a very satisfying second.
After the race, no one came around much. The fans were a quarter mile away from the back stretch pits. I had just outrun most of the club as a little known outsider. My pit friends helped me load up and I took second place money and never ran a URC race again.
But getting back to the Weedsport disqualification, that incident put me on the road for a memorable week of racing. It was memorial day weekend. I had run the URC race at Fonda on Saturday nite and Weedsport on Sunday evening. For some reason there wasn't a race for monday nite (memorial day) and I knew there was a race at Eldora in Ohio on tuesday. I'd never been to Eldora, I'd only seen the ads in the papers. I didn't even know where Eldora was except that it was in Ohio.

So I got on the NYS Thruway at 11pm and headed west... me, my Dodge van, and my racecar (sold the motor home-too slow and a gas hog) . When I got to the Ohio border about 2am I got out the map and looked for Eldora, Ohio. It wasn't on any map. I dragged out an old Speedsport News and found the Eldora results with the date line Rossburg, Ohio. Found that on the map and headed south west.
After a nites sleep in some rest area and the rest of the day on the road and following another sprint car being towed through the Ohio farm country, I finally arrived at Earl's back gate, just another racer in a long line of racecars waiting to get in. I signed in and headed for the infield pits, followed the road to the edge of... HOLY SHIT, THE STRAIGHTS HAVE MORE BANKING THAN THE TURNS AT MOST TRACKS! I had no idea. The place was huge and steep. It was like Grandvew, near Allentown, Pa but much larger. It was like the gravel pit I used to play in with the snowmobiles at home, chasing up the near vertical sides in giant arcs. This place was awesome, a huge car count of 50 or more, names I'd only read about. I was definately out of my league with my 355 engine and my 16 sqft Pa legal wing. There were no wing limits! There were 6ft X 7ft monster wings on top with 3 X 3 foot ones on the nose! Run what you brung was the name of the game!
For me the adventure was just to be there.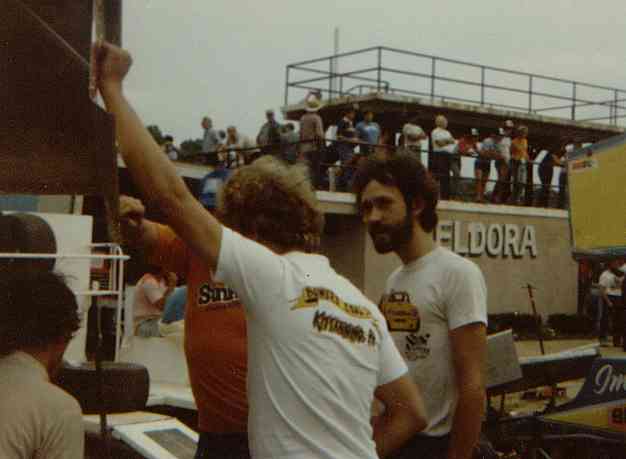 To turn some laps on the track, race with these guys. I found a pit spot, pulled in and unloaded. A tall man walked over and asked who I was and where I was from. He said he used to race here a lot and he could help me. He introduced himself, Mack Clingan. I have to admit that I hadn't heard the name before but this place was kind of off my beaten path. While we were standing around watching them water the track he brought over a guy in a tee shirt that had been standing by the pit wall. He said "I'd like you to meet a guy that knows his way around here, this is Todd Gibson." I was glad to meet this person. I certainly knew his name. My dad and I had watched him dominate Oswego Speedway for a few seasons before he went on to USAC sprints and the road to Indy. What irony. All the races I'd seen him run, the stories in programs, the headlines in the papers, a childhood hero... and when I meet this great driver, he's wearing the tee shirt and I'm in the drivers uniform.
Mack showed me where to run the turns and we watched the first warmup from the inside of the first turn. "Watch Dub May, he said "that's about the right line for you." It was about in the middle of the heavy clay of the first turn. "And don't lift!" I listened to the motors bog down as the cars entered the corner, never a breath for the engine, wide open all the way around. This was a first for me. I'd never been to a track where you could run in without lifting. Mack had chosen the right gear and after a few laps I was running the middle line with the rest, flat out all the way around. In the heat I started at the back and by the time we completed one lap the leaders were out of sight.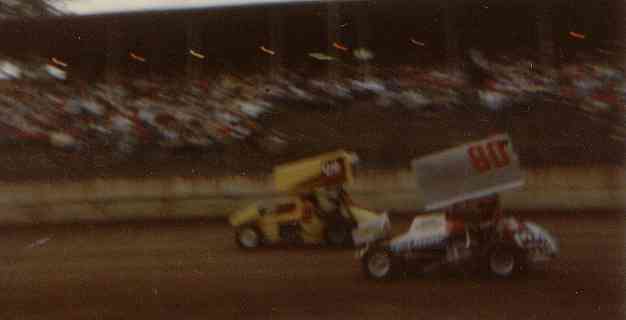 I had to run the consi and had a qualifying spot right up to the 4th turn of the last lap when I got beat by a car that slingshot off the cushion. Considering it was my first time there and with that little wing and motor, that wasn't too bad. We watched the feature from the first turn infield and it was awesome. There is nothing like watching sprints up close from the infield at Eldora.
Mack said I should head off to Atomic Speedway in Chillicothe, Ohio for the race the next night. I hit the road.
This track was a new experience too. Good banking for a 1/3rd mile. Every car took time and I was amazed to hear Rick Ferkle run two laps at this little bull-ring without lifting! WOW, how'd he do that? "They back out a little and get on the brakes and set the car in sideways and then put their foot back in it" I was told by someone at the fence, "And don't forget the bigger wings, it plants the car hard." Time trials is not the place to learn new techniques so I gave it my best shot my way and my bad time gave me a good heat starting spot (inverted times) so I qualified for the feature and started near the back. I ran the race and finished without a scratch. Can't remember where I finished, but it paid money and I was on the road to TriCity Speedway in Western Pa for the thrusday night show.
TriCity was another challenge. It looked like the 1/4 mile track around any football field at any high school in the country. Flat, narrow and for my first time ever, no wings. Maybe this would provide more even footing than running against the monster wings at Eldora and Atomic. But, I wasn't fully set up for this situation either. Maybe a bit too stiff in the suspension and no experience without the wing. In warmups they dropped the green and after a short burst on the throttle out of turn 4, I let off waaayyyy early at the start line, just kind of getting the feel of things and set the car into the turn. Well let me tell you, I drifted across that turn like a toboggan on ice, through the cushion, loose stuff and finally got hooked up about a foot from the fence. Next lap I was much more careful and found out that this snails pace was race speed for this flat track and no wing.
After the heats they ran an Austrailian Pursuit race which I started. It was just an added race for fan interest. Draw your starting position from the hat and if you get passed you pull off. Sort of a musical chairs, last one running at the end kind of fun race. I ran it for fun but also to get some track time. I lasted about half the race before I got passed.
The feature was a follow the leader affair for me. At this place it was hard to pass. Ed Murphy and someone else tangled in front of me in turn 3 and I missed it somehow. I think Lou Blaney won it. I finished mid pack, collected the money and was on to the next track.
Friday night in Western Pa was Lernerville.
After Lernerville I headed down the Pa Turnpike to Central Pa to race at Port Royal. That was my favorite track and usually good for a decent finish. I don't remember anything special about that nite except that I finished without incident and was introduced to Teresa by Jim Nace's uncle Bussie Nace.
It rained during the night and most of the rest of the next day. The sunday nite race at Susquehanna was rained out so sunday afternoon I headed back to Brewerton with about $600 more than I had left with over a week before (I think I started the trip with about $125).
Traveling was fun. Headin' down the highway on a Tuesday afternoon, knowing that most of America was at work was a great feeling of independence. Going to new tracks was an adventure. Even though I was all alone on the trip, everywhere I went I found friendly people and a couple of helpers to crew the car. Other racers helped and sometimes let me use parts for the nite or their shops if I needed to. I made a lot of friends on the road and when I came back to those tracks the next year or years later, sometimes the same guys would just walk up to the car ready to help as if we'd planned it that way. Sprint car racing has a comeradary that you don't find in many other sports. Racin' and travelin' can be fun.
Home Racing Again! 2003 Shampine Sharon Speedway Getting Started Knock Out First Win! Port Royal Win Lernerville Harry and the 35 car Putting it all together Syracuse Mile More Syracuse Mile Flat Out! Springfield Travelin' Spooky Coincidence Adventures of Carl and the Airplane Diary 2000 Send Email